An exclusive interview with Karin Smyth, Labour's new MP for Bristol South
How does it feel to be representing Bristol South for Labour?
I feel very privileged and proud to have been elected by the people of Bristol South. It's been a Labour seat since 1935 and to succeed Dawn Primarolo, who served the constituency for 28 years is an honour. Hers are big shoes to fill, but I know I can repay the trust invested in me by constituents.
Becoming an MP is a change of Party role for me, following nearly 30 years' campaigning for Labour: in Norwich South in 1987 (as student organiser) and Hornsey & Wood Green in 1992, then as agent in our successful three-way marginal Bristol West wins of 1997 and 2001, establishing and running Valerie Davey MP's office after she was elected.
Being elected as an MP is of course a personal political highlight after decades of campaigning and organising, but I have to say the Tony Blair landslide of 1997 was the high watermark so far of all those years. There is no substitute for winning elections, and as a Party we have to develop that habit again.
What are your priorities for the next 5 years?
The outcome of the election shapes much work I'll need to prioritise: protecting local people and promoting their interests. Bristol South is amongst the country's most economically deprived constituencies. Thousands of residents here cannot afford austerity policies which hurt the lowest-paid and the most vulnerable in our communities.
I am determined to work to improve the opportunities available for 16-19 year olds. Central to this is the need for high-skills apprenticeships, but it's also important to support people of all ages who need to re-train and learn new skills. I plan to work with local businesses, educationalists and others to focus on this.
It's also vital that more homes in Bristol South become available for people to buy and to rent.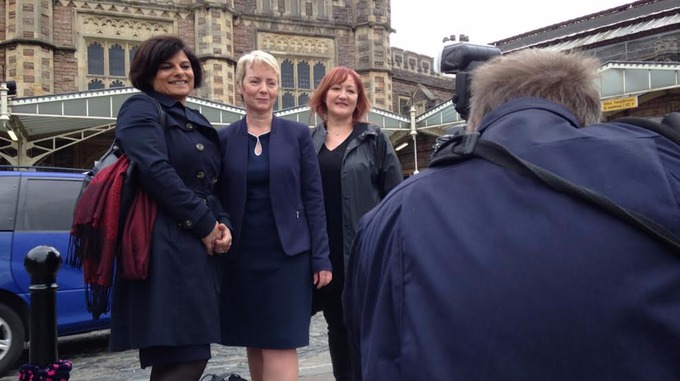 Since the NHS is a personal passion – I worked for a number of years in the NHS before being elected - I will work to ensure we have a health service focused on people, not profit. I want to help ensure more collaboration between healthcare providers, with more services in the south Bristol hospital at Hengrove that are joined-up effectively with GP practices and community services.
What do you hope to bring to Bristol South?
Hard work, resilience and determination to achieve my priorities. And also a well-tuned listening ear, to ensure that as far as possible the changing needsof individuals and communities can be accommodated by policy-making as time goes by. I very much welcome the views of those I represent, so I urge people to contact me to let me know their thoughts.
I'd also like to think other mums with families who are interested in politics will look at my background, take encouragement from it, and then get more involved in front-line politics.
What would you like to say to the voters that elected you?
Thank you for your support. And I promise that whether you voted Labour, voted for another party, or if you didn't vote at all, I will work my very hardest in Westminster and across Bristol South to ensure you have strong representation for many years to come.
When you're not busy in Parliament and campaigning in Bristol how do you like to spend your time?
Family time is the most important thing to me. As an MP I must of course spend a great deal of time at Westminster, which means being away from my partner and my three young sons. But time with them is not only very precious to me, I'm sure it also keeps me grounded.
My kids and their friends took a great interest in the general election campaign, and I learned a lot from their refreshing insights into the various issues. I think it's important that people of my generation take time to listen and learn from young people.